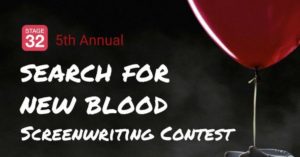 It never gets old getting into screenplay competitions, but this time is extra special for two reasons:
I got TWO screenplays into the Quarter Finals!
It's my first contest placement for Death Swap!
Yes, both The Fat Pact (which I wrote with Raza Rizvi) and Death Swap made the Quarter Finals of the 5th Annual Search for New Blood Screenwriting Contest by Stage 32.
Congratulations to the other finalist! Read the list here: https://www.stage32.com/happy-writers/contests/5th-Annual-Search-For-New-Blood-Screenwriting-Contest